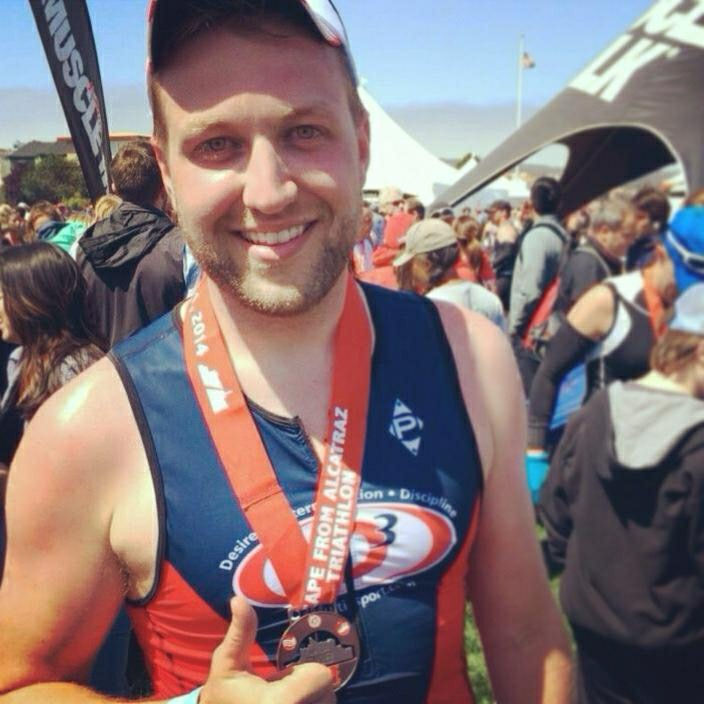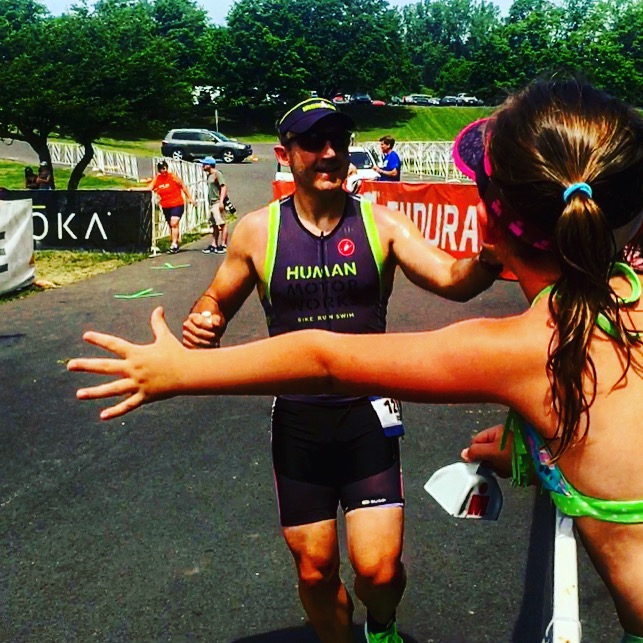 Being in an engineering fraternity, we are usually celebrating intellectual or professional achievements of our Alumni, but sometimes we get the chance to celebrate physical achievements. That's the story with Kappa Alumni Nathan Turner (Mechanical Engineer '04) and Joel Reed (Mechanical Engineer '02). Both of these Phi Delt men have been heavily involved with marathons and triathlons, including the IRONMAN competition in the past few years. Not only do these competitions require physical strength, but they also require mental strength. For those who are unfamiliar, a triathlon includes three separate portions: swimming, bike riding, and running, and an IRONMAN competition is a type of triathlon that consists of a 2.4 mile swim, 112 mile bike ride, and 26.2 mile run totaling 140.6 miles. Each segment has its own time limit, and the participants are required to cross the finish line by midnight on the day of the competition. These competitions take place all around the world, and every year, the top finishers compete in Kona Hawaii at the world championship. Each race allows a maximum of between 2,500 and 3,000 people, but only 2,000 people total are allowed to compete in the world championship.
Both Nathan and Joel started their journey in similar manner by trying to make life changes to get into better shape. Nathan made a new years resolution 4 years ago to lose some weight. Just by changing his diet, he was able to lose 30 pounds in just a few short months. Continuing the trend of being healthier, he decided to sign up for a mud run with a friend. Nathan had a great time doing the mud run, and he ended up making a deal with his friend to try a triathlon. He signed up to do the smallest of all the triathlons, a sprint triathlon, which consists of a 0.5 mile swim, 12.4 mile bike ride, and 3.1 mile run (16 miles total). It was a daunting task, but it was only the beginning. "I ended up doing that race in October of 2012 and never looked back. I fell in love with the sport. I realized the challenge of the whole thing, the fitness level required, and the inspiration the whole thing provides to me. I have done sports all my life and love competition, but triathlon is just something totally different. You get to compete against others, but also yourself. Trying to push your body at a hard level (the level the average person would do for 30 min tops in the gym) for 13-15 hrs to me is insane, and I love every minute of it."
Joel's story started off with the same goal of getting into shape. He was feeling that he didn't have the energy to be the best father and husband that he wanted to be. So he started changing his diet and healthy habits, and he joined the local YMCA to help him meet his goals. His first challenge was a Tough Mudder, which is an obstacle course that can be 10-13 miles in length. It was a team event that he and his friends thought would be fun to do together. Although, it was a fun experience, Joel was unable to keep up with the pace and completed a bit slower than desired. Following that experience, an unfortunate turn of events that should have stopped him in his tracks actually helped motivate him to keep going. "The next few days I went into a recovery mode that allowed my body and muscles to heal. One problem, my left knee did not seem to be improving. I was concerned that I might have a torn something and should get this checked out. I did the X-ray thing, and it showed all was fine. We then followed up with an MRI. The Dr. came back in the room with the results, and I fully expected to have the Dr. tell me that I would need to have my knee scoped or all was fine and my body was still in healing mode. Boy was I wrong. I was then told at age 34 that I have osteoarthritis. He then went on to tell me I should change my life goals and my exercise habits. Here I am just getting started on my lifestyle change, and this is the news I get. I had goals and dreams of doing more and getting into shape. Dr. says stop running and do less to protect the knee. I went home that day and decided that I was not going to listen to what the Dr. had said. Not only was I not going to listen, I was going to complete a full IRONMAN event. Get out of the way of a highly motivated person that does not take well to people telling him he cannot."
In order to accomplish any triathlon, especially an IRONMAN, it takes a significant amount of dedication and training. During the off season, both men work out for one to three hours nearly every day of the week (sometimes twice a day). The workouts include a combination of swimming, biking, running, weight lifting, core training, or plyometrics. Once the season approaches, they barely take a day off from training and start to include longer workouts that can last up to 7 or 8 hours in a day. Nathan works with a lot of professionals to ensure that he's doing the right things including a triathlete coach, a nutritionist, and a physical therapist. "My coach writes my training program for me, my nutritionist tells me what to eat on a day to day basis, and my therapist works on my muscles and motions to ensure I don't get muscle fatigue or any potential injuries. Training for an IRONMAN is basically my part time job that I do when I get done working a 50+ hr work week, but I love it and wouldn't have it any other way." Joel commented on the difficulty involved with training as well as maintaining a nutritious diet "The training and nutrition are by far he hardest part. This is an everyday event towards the one day race. The race is the celebration for all he hard work." For those interested in Joel's training, he can be followed on Instagram where he posts his workout times and meals: @joelreed21.
Although these competitions take a lot of physical work, they require just as much mental work to stay motivated and keep pushing through the pain. In order to stay motivated to keep going during a competition, Joel takes inspiration from those around him. "What keeps me motivated is those awesome people around me. The 70 year old that I could not keep up with on the run, the amputee that passed me on the run, the blind man connected with a rope to his buddy, the heavy set person still grinding it out ever mile to the finish. I love big, almost impossible goals. When they are realized the reward is like no other." Nathan tries to stay focused on the goals that he sets for himself in order to allow him to make it to the end of a race. "For me its the goals I set for myself that keeps me going during the race.  It's the need to be better than myself (so to speak). I just want to keep getting better and better. It really comes down to the drive within yourself. If you want it bad enough, then you have to suck it up and push yourself. This sport is not your typical sport in that you go play baseball or basketball and your practice consists of shooting the ball around or playing catch. In order to be competitive at this sport, you have to train for hours a day, and it's primarily endurance - not lifting weights, not playing around, but sweating your ass off, asking yourself "why am I doing this?"."
Nathan wasn't joking when he said how much he loved this sport. That was clear when he went on to talk about some of the triathlons that he's been a part of. "When I got done doing my first full IRONMAN, I said right away I would never do another one, and I am signed up for another one this year.  This sport is almost like a drug. My first full season I did a few sprint triathlons, a couple Olympics, and a half IRONMAN, and thought I was the man! Then the next year I did a couple sprints, a few Olympics (including the Escape from Alcatraz, which I will be doing for the 3rd time this year), and a full IRONMAN. At the end of that year I told myself there is no way to top it. Last season I did a couple Olympics, a couple sprints, and 3 half IRONMANs. So this year I said, "what should I do?" I have already signed up for 1 sprint, 1 Olympic (Alcatraz race - not an easy one), 4 half IRONMANs, and 1 full IRONMAN." In 2015, Nathan competed well enough to finish in the top 10% (2,149/21,681) for his age group, earning him a bronze status, but being a true competitor, he's not planning on stopping there. His latest race earlier this summer was an IRONMAN Boulder 140.6, which was his 5th race of the season. He finished in 12:13:12, which was 3 hours faster than when he completed the same race 2 years ago. He finished 330 out of 1490 total people and 52 out of 132 in his division. And if that wasn't enough, this year, he qualified for the USAT (United States of America Triathlon Association) nationals, which is where the best of the best compete from around the U.S. The only way to earn your way into that race is to finish in the top 10% of a race within your division. He made it to the podium this year on a shorter distance race taking 2nd place in his division, thus earning his spot to nationals.
Since Joel's refusal to accept his doctor's bad news, he has been hard at work getting stronger and proving to himself and everyone else that this sport was something that he could do. His first triathlon was a sprint in August of 2013 followed by two more half marathons later that year, and it and has only escalated from there. In 2014, his biggest events included a 4 hour Adventure Race, a Sprint Triathlon at Pokagon, an Olympic Trialthlon and then half IRONMAN both in Muncie, an Olympic Triathlon in Indianapolis, a half marathon in Fort Wayne, and a half marathon in Columbia city. Then in 2015, Joel continued his progression with an 18 hour Adventure Race, an Ultra 50 mile trail run, a half IRONMAN in Muncie, a Sprint Triathlon in Bluffton, an Ultra 30K, and finally the full IRONMAN in Chattanooga. Here is a link to a video that Joel created documenting his journey to become an IRONMAN: http://youtu.be/xGyFf3B9HxA. Joel's latest competitions this year included a 100k bike race in Fort Wayne and a half IRONMAN in Syracuse.
Nathan and Joel have both already had great accomplishments this year, but they aren't done yet. Joel still has a half IRONMAN in Benton Harbor, and he is finishing off the season with a full IRONMAN in Louisville. Nathan also has two competitions left this year, both of which are half IRONMANs. The next one is the IRONMAN Superfrog 70.3 in San Diego, which consists of a tougher than usual ocean swim and beach run. He'll finish up the season in Miami with another IRONMAN 70.3.
Both of these men are a true inspiration and have proven what can be accomplished by giving it their all. Thank you to both Nathan and Joel for taking the time answer these questions. Good luck to you both in the future, and we'll all be rooting for you!